Education Course for Parents
Of Children and Adolescents with
Mental, Emotional, or Behavioral Disorders
NAMI (The Nation­al Alliance on Men­tal Ill­ness), Lex­ing­ton affil­i­ate, is offer­ing a NAMI BASICS Edu­ca­tion Pro­gram designed for parents/caregivers of chil­dren and ado­les­cents with ill­ness­es such as ADHD, Major Depres­sive Dis­or­der, Bipo­lar Dis­or­der, Schiz­o­phre­nia, Oppo­si­tion­al Defi­ant Dis­or­der, Anx­i­ety Dis­or­ders, and Obses­sive Com­pul­sive Dis­or­der.
The course teach­es cop­ing skills, man­age­ment skills, communication/listening skills, prob­lem solv­ing skills, and more. The role of school, men­tal health, and legal sys­tems in treat­ing chil­dren with dis­abil­i­ties is reviewed. Class and mate­ri­als are free!
Family members report feeling more empowered and
calmer as a result of taking this course.
Pre-enrollment is required by phoning Tracy at 859–536-8278 or e-mailing

tracynamilex@gmail.com


Take advantage of this unique opportunity!
NAMI

Lexington is proud to announce that we celebrated our

BASICS

Inaugural Graduation on April 17th. The group was facilitated by Melinda Wirkus and Jolinda Todd. Congratulations to all participants who endured two snow/ice storm cancellations and remained committed to the end of the course. A graduation photo is attached.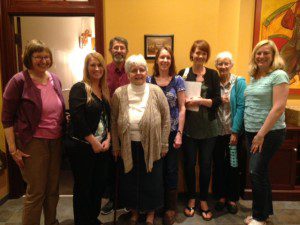 We hope this successful class is the beginning of more
BASICS

classes to come. We are beginning a wait-list for the next course so please refer interested folks to either this e-mail or phone the

NAMI

office at 859–272-7891.

---