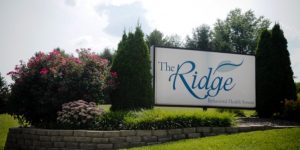 NEW

LOCATION

FOR

SOBER

LIVING

!!!!
The Ridge Behavioral Health
Adult Substance Abuse Sober Living Program
at the Hilton House
We are pleased to share with you the new location for The Ridge Sober Living Program. We are partnering with The Hilton House for a sober and supportive environment. Also included is information on all of the Adult Chemical Dependency programs at The Ridge.
Always keep in mind that The Ridge is available to you and your patients, 24 hours a day, 7 days a week, 365 days a year. With our free, confidential assessments we are able to develop a recommendation for the level of care that will best meet the needs of your patient and help them begin the process of recovery in a safe, supportive environment!!
Sometimes Recovery Needs a Little Extra Help
Are you or a loved one struggling with drug and alcohol use? The Ridge Behavioral Health System is offering a Substance Abuse Treatment Program with Sober Living that provides intensive therapy in a private setting.
Four to Six Week Pro­gram
Our treat­ment team, con­sist­ing of Licensed Ther­a­pists, Board Cer­ti­fied Psy­chi­a­trist, and Sober Liv­ing Staff deliv­er an inten­sive drug and alco­hol treat­ment pro­gram. Pro­gram­ming will include 12-Step meet­ings and sober liv­ing activ­i­ties that are empha­sized through­out treat­ment to assist patients in estab­lish­ing a sol­id foun­da­tion for recov­ery.
A Program That Offers Support Away from Home
We recognize that some patients due to their distance from Lexington or due to a home environment not currently conducive to recovery need time to address their individual needs. We have partnered with The Hilton House to provide our Substance Abuse Partial Hospitalization Program patients a supportive and supervised place to stay while in our program. The Ridge Substance Abuse Treatment program with Sober Living accepts all Medicaid plans, Medicare, and all Private insurances. For a free, confidential assessment, please call The Ridge at 859–269-2325.
Inpatient Adult Chemical Dependency Programs
Ridge Recov­ery Cen­ter is designed to serve adults over
the age of 18 diag­nosed with chem­i­cal depen­den­cy and/or
co-occur­ring dis­or­ders. We spe­cial­ize in the treat­ment of
adults diag­nosed with both men­tal health and sub­stance
use dis­or­ders. Our reha­bil­i­ta­tion pro­gram is up to 28
days of inten­sive ther­a­peu­tic care, which can include:
■ Utilizing Recovery Dynamics — Recovery Dynamics is a researched
method of treatment for alcoholism and addiction.
■ Dual Diagnosis Educational Groups — These groups cover a wide
range of topics (substance use and relapse prevention, medication
and mental health issues, healthy lifestyles, communication and
anger management).
■ Daily Self-Help Meetings — Ridge Recovery Center patients are
exposed to daily self-help groups that not only support their treatment
at The Ridge, but also prepare them for their transition home.
■ Board-certified adult psychiatrists specializing in addictions
and licensed therapists.
ROAD

Program

The Ridge Opi­ate Addic­tion Detox­i­fi­ca­tion (ROAD) pro­gram is designed to address the needs of indi­vid­u­als strug­gling with the use of hero­in and oth­er opi­ates. We pro­vide med­ica­tion-assist­ed treat­ment to pro­mote recov­ery with ben­e­fits that can include:

* Less dis­com­fort dur­ing with­draw­al
* Reduced crav­ings
* Bet­ter results fol­low­ing treat­ment
* Suc­cess­ful absti­nence from drugs

Our inpa­tient, med­ical­ly super­vised detox­i­fi­ca­tion pro­gram can help patients stay safe and com­fort­able as they start on the road to recov­ery with the help of physi­cians, nurs­es and clin­i­cians spe­cial­ized in addic­tion med­i­cine. Pre­scribed med­ica­tions, includ­ing Sub­ox­one®, can help man­age with­draw­al symp­toms and pre­vent relapse.
Adult Chemical Dependency Outpatient Programs
Adult Chem­i­cal Depen­den­cy Par­tial Hos­pi­tal­iza­tion Pro­gram (20 hours per week)
■ Aver­age pro­gram length is approx­i­mate­ly four to six weeks
■ Com­bined Patient and Fam­i­ly Group each Wednes­day 9am-1pm and Sat­ur­day 8:30am-12:30pm
■ Meet with psy­chi­a­trist week­ly
■ Dai­ly groups include edu­ca­tion and psy­chother­a­py (Matrix Mod­el, 12- Step)*
■ Overnight lodg­ing pro­gram is avail­able for a nom­i­nal fee at The Hilton House. Includes shut­tle to and from The Ridge and empha­sizes sober liv­ing activ­i­ties.
*Matrix Model is a comprehensive, evidenced based program developed to improve the lives of individuals and families affected by alcohol and other drug use. Its mission is to promote a greater understanding of addiction disorders through treatment, education and training.
Adult Chem­i­cal Depen­den­cy Inten­sive Out­pa­tient Day Pro­gram (12 hours per week)
■ Aver­age pro­gram length is approx­i­mate­ly four to six weeks
■ Com­bined Patient and Fam­i­ly Group on Wednes­day 9am-12pm and Sat­ur­day 8:30am-11:30am
■ Dai­ly groups include edu­ca­tion and psy­chother­a­py (Matrix Mod­el, 12-Step)*
Adult Chem­i­cal Depen­den­cy Inten­sive Out­pa­tient Evening Pro­gram (12 hours per week)
■ Aver­age pro­gram length is approx­i­mate­ly four to six weeks
■ Arrival time for admis­sion is 4:30 pm
■ Com­bined Patient and Fam­i­ly Group on Tues­day 6pm-9pm and Sat­ur­day 8:30am-11:30am
■ Dai­ly groups include edu­ca­tion and psy­chother­a­py (Matrix Mod­el, 12- Step)*
For more information about all programs at The Ridge Behavioral Health System,
please contact Michelle Bowling, Director of Business Development at 859–268-6422 or michelle.bowling@uhsinc.com

---